GENESIS PARENT PORTAL FOR STUDENT INFORMATION
From your home or office, you can find out how your child is doing in his or her classes!
In our ongoing effort to strengthen communication with parents, we wish to bring to your attention the Parent Portal of the Genesis Student Information System (SIS). The Genesis SIS will enable you to access your child(ren)'s grades, attendance, disciplinary infractions and other important information online. This access is available from the time you enroll in Willingboro Public School District until your child(ren) graduates. The Parent Portal link can be found under "District Quick Links" at the bottom of the District Homepage or bottom of this page.
With your username and password, you can access the information previously mentioned. Web access to the Parent Portal is completely secure. Access is set up for individual families, and your access is limited to your child's records only. Secondary students (Grades 5-12) also have access to their own information with a Genesis Student Account, which limits them to see only their own information.
This system does not replace face-to-face parent/teacher conferences, telephone calls, school newsletters, or the many other forms of communication that provide valuable feedback about your child's educational experience. Instead, it is a supplemental way for busy families to track their children's progress.
Upon registration, Genesis SIS Department will create an account for you to access the system. Once your account has been created, you will receive via e-mail your username, password, and further instructions. Please note that you will have the ability to change your password after you log in to the Parent Module for the first time. And as always, please keep your log-in information confidential to protect your child(ren)'s personal information.
If you have any other questions or concerns regarding the Parent Module, and its implementation, please e-mail Genesis Support at genesissupport@wboe.net. Please review the 'Parent User Manual' linked below, and we look forward to hearing your feedback on this method of communication.
TO ACCESS THE GENESIS PARENT PORTAL
Please click on the link below to be redirected:
FORGET YOUR PASSWORD
If you have forgot your password, please use the "Forgot My Password" button on the login screen.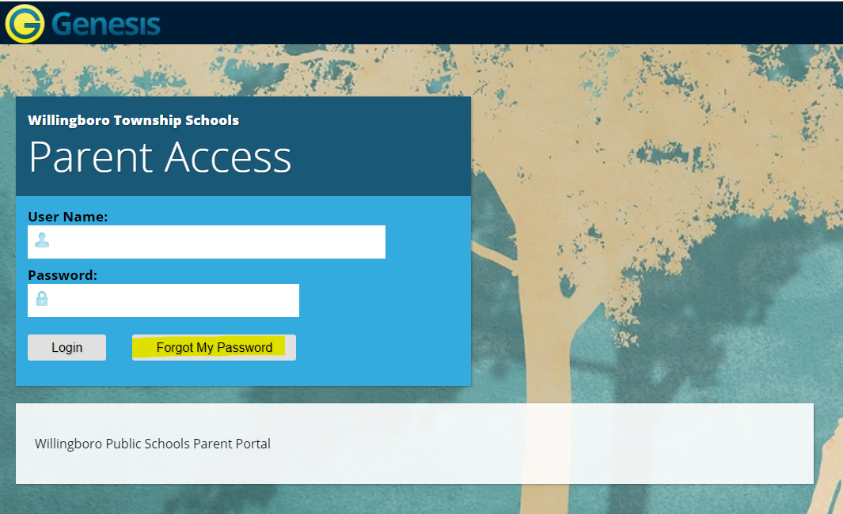 TO ACCESS THE GENESIS STUDENT PORTAL
Secondary Students (Grades 5-12) have access to their own Portal account, Please click on the link below to be redirected: